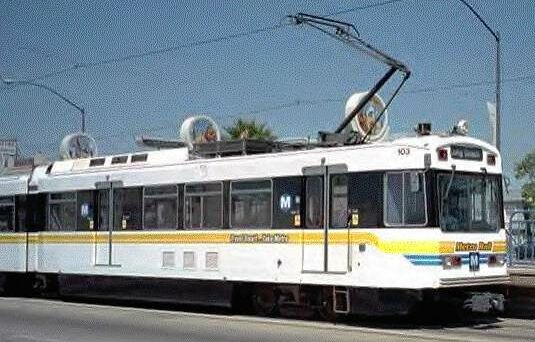 Just because I've been writing about bikes and development, doesn't mean that Metro hasn't been busy with a myriad of different rail and light rail expansion projects. In addition to the Subway to the Sea and the Expo Line, both of which have been talked about extensively on this and other blogs, Expo is also looking to add light rail along the Crenshaw Corridor and to connect the Gold, Blue and Expo lines in LA's downtown.
This week, Metro began
holding hearings
to update the public on the agency's Crenshaw-Prairie Transit Corridor Study. The
Santa Monica Daily Breeze
reports that Metro has picked a preferred alternative for the project. The new light rail would connect the Expo Line to the Green Line, and pass within a mile of Los Angeles International Airport. The line will run along existing track through an industrial area of Inglewood and not through the heart of the downtown. Unlike Phase II of Expo or the Subway to the Sea, there are already some funds set aside for the project.
Next week, Metro will be holding similar meetings for the Regional Connector plan as it had for the Crenshaw-Prarie Plan. According to the
press release
, Metro has identified some potential alignments and station locations for a more detailed technical analysis. People interested in seeing and commenting on these alignments will have their chance at two public hearings:
Tuesday, Feb. 26, 2008:
6:30 – 8:00 p.m.
Japanese American National Museum, 369 E. 1st Street, Los Angeles
Thursday, Feb. 28, 2008:
Noon – 1:30 p.m.
Los Angeles Central Library, 630 W. 5th Street, Los Angeles
Image from
Light Rail Now